Valpolicella Ripasso Doc
Classico Superiore

QUALIFICATION: Valpolicella Ripasso DOC Classico Superiore – Organic wine.
CERTIFICATION: Controlled Designation of Origin Guaranteed V.Q.P.R.D (quality wine).
GRAPE VARIETIES: Corvina, Corvinone and Rondinella.
ORIGIN: From our hilly vineyards located in Novaia, in Marano di Valpolicella (in the province of Verona). Hilly vineyards in Valpolicella Classica (250-400 m a.s.l.), mainly exposed to south/south-east.
GRAPE HARVEST SEASON AND PICKING METHOD: Last week of September, manual harvesting of grapes.
VINIFICATION: Grapes are destemmed and crushed softly; fermentation with indigenous yeasts takes place at controlled temperature in oak truncated-cone vans.
RIPASSO METHOD: A traditional vinification technique, which consists in refermenting (a second fermentation) the Valpolicella wine – produced in September – on grape skins, rich in alcohol and sugar, of Recioto and Amarone wines – produced in January.
AGEING: 12 months in wooden barrels, 4 months in bottle.
AGEING AND CONSERVATION CAPACITY: If stored properly, this wine is likely to age well up to 7/8 years. It is recommended to store bottles horizontally in a coll and dark place, at constant temperature and humidity.
SENSORY PROFILE: A deep ruby colour. An intense and clear aroma with hints of spices and peculiar notes given by the second fermentation on Amarone skins (Ripasso method). On the palate a good alcohol content, a medium-low acidity and evolved tannins. A full-bodied, structured, sapid, persistent, well-balanced wine.
PAIRING SUGGESTIONS: Tasty first courses; grilled, roasted, stewed and boiled red meats; medium-aged cheeses.
SERVING TEMPERATURE: 18°C. Decant the wine before serving.
BOTTLE SIZE: 750 ml | Magnum 1500 ml.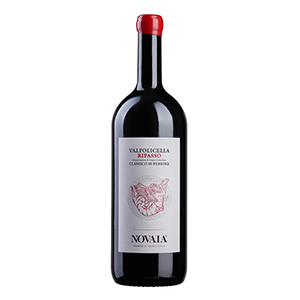 ---
DOWNLOAD AREA
Bottle image
Label
Tech sheet
Bottle video