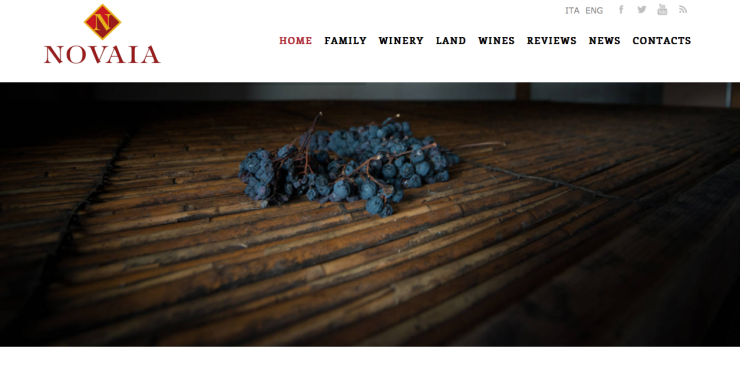 We are delighted to present our new website www.novaia.it
The new Novaia website will allow all our customers to be kept up to date about our company news, guided tours and to have details regarding our wines.
The new website is totally  "responsive", meaning that it will be easily possible to browse with any device (Smart Tv, Tablet, PC and Smartphone)  thanks to its graphic interface which adapts according to the size of the screen.
The site's menu is made up by various sections which we shall describe briefly in this post:
HISTORY: this section is divided into 3 sub-pages (today, our history, an organic choice) in which we tell you about the history of our winery from its origin until today, dedicating particular attention to our choice of converting our production to certified organic agriculture;
WINERY: in this section, divided in 3 pages (cellar, vineyards, Crus), our winery is described with specific reference to the winemaking procedures, to the characteristics of our vineyards and of our Crus;
TERRITORY: our territory deserves its own dedicated section, to explain specifically the characteristics, the history and the position of our vineyards and our winery. In the sub-page "Marano di Valpolicella" we tell you about the folk tradition of our village, in "Valpolicella e Lessinia" we explain the details of our territory which is in between the two areas and finally, the section "Amarone Vs Recioto" is dedicated to the two most important wines of our territory, telling about the evolution of Recite which brought to the birth of Amarone della Valpolicella;
WINES: portfolio page with all our wines where you can access technical sheets for each wine with the possibility of downloading the technical sheet, lable and bottle pics for each wine. Furthermore every sheet has a link for online purchase;
AWARDS: in this page there are the videos about our winery and all the awards we have received from the main guides and magazine in the field, divided by newspaper or name of the wine;
NEWS: section dedicated to our winery's communication, such as events and new products;
CONTACTS: page with all our contacts and the map to find us and contacts for booking a guided tour.
Now you just have to let you discover our website and all the new things there are in it.
Enjoy the web surfing